Is it Fly Fishing Time Yet? Grab the Best Fly Fishing Gifts for Men Before It's Too Late!
My grandfather (Pop) loved Fly Fishing, so I have been buying the Best Fly Fishing Gifts for Men for many years.
He loved it so much that he made his own cane fishing poles and then moved up to making graphite fishing poles.
My grandparents learned how to tie flies so they could sell them to the lodge for extra money when they retired.
As you can see, fly fishing has been a tradition in my family for a long time.
Ok…on to the list of gifts that are worthy of Pop's love of fly fishing.
---
Fly Fishing Gifts for Men
---
Best Bamboo Fly Rods – The Rolls Royce of Fly Fishing Rods
New Split Bamboo Fly Rod,8'0″ #6,2 Piece with 2 Tips

Pop made fly fishing rods exactly like this one and gave them as gifts to friends and family. My brother still has his and uses it as often as he can.
These are made with bamboo cane and silk winding. The cane is finished with three coats of varnish to keep it looking good for years to come.
It comes apart in two sections and has a cloth bag which makes it easy to travel with.
If you have never used a Bamboo fly rod or your friend hasn't, it is an experience you have to try at least once. You won't go back to graphite or glass again.
It is considered an antique way of fishing, but I think that was a rumor made up by those that love it so much to try to keep the cost lower.
If you have a friend or loved one that doesn't own a Bamboo fly rod, this will be the perfect fly fishing gift.
---
Orvis Bamboo Fly Rods
My grandfather always had an Orvis catalog next to his work station on his desk. The pages were well worn and he had many page edges turned down so he could find his favorite products fast.
One was the bamboo fly rods from Orvis. The fly rods are made in the U.S.A and are proud of it. They create heirloom bamboo fly rods.
A fly rod is the most important tool you will have in your fly fishing life. It has to be flexible and strong at the same time. The worse thing you can do is choose a cheaper rod and never love it. You can always change up flies, but once you buy a fly rod, you usually use it the rest of your life and hand it down to a grandchild. So think this purchase through carefully.
Adirondack Bamboo Fly Rod
Bamboo 1856 805-3 Full Fly Rod
Penn's Creek Bamboo Fly Rod
---
Fly Fishing Rod Tube Cases
Fly fishing rods usually come with a cloth bag to put them in for safe keeping. But you will be wise to get a stronger case. The tips of fly rods are very fragile, but they have to be. That is what makes them so great for trout fishing. My grandfather always used the tube kind, so that is what I favor too. There are soft side ones, but I don't have any experience with them and if they truly keep the rod safe. These are for traveling, not for when you are fishing.
Sage Cordura Rod Tube – fits any 9'0

Sage Fly Large Multi Rod Tube 33″

Caddis Sports Fishing Rod Case, 56-Inch

Orvis Fly Rod Tube 4-Piece Rod – 29 3/4

---
Fly Fishing Box – Personalized with His Favorite Fishing Hole
Etsy is the home of all handmade products, so these fly fishing boxes are a great find here. You get to select the wood and the fishing hole map. He will love it, just like I know Pop would have too. The Current River was his fishing hole and Montauk State Park was where he stayed. I miss him so much.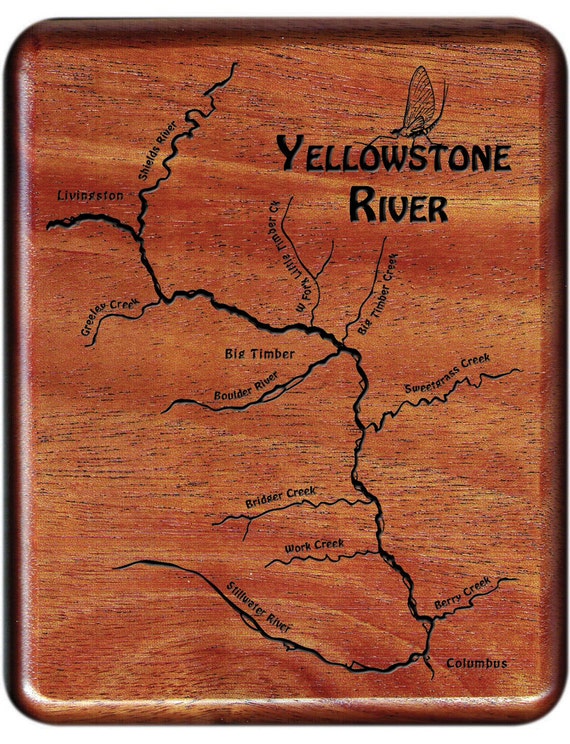 YELLOWSTONE RIVER MAP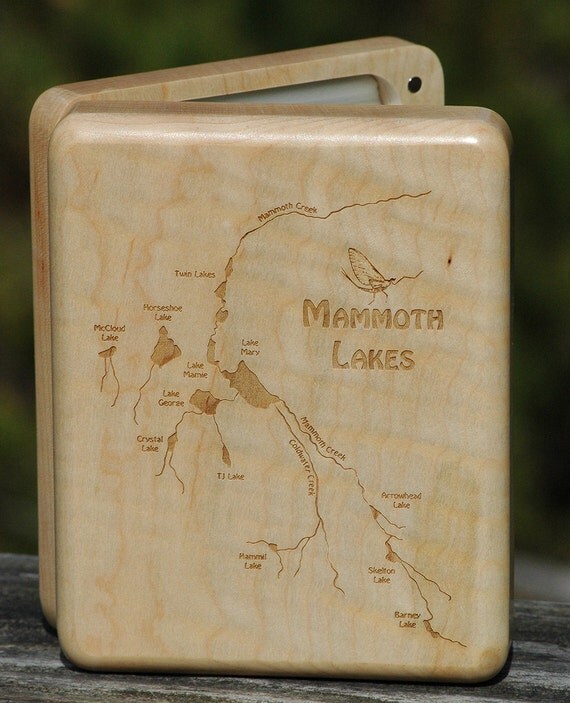 MAMMOTH LAKES RIVER MAP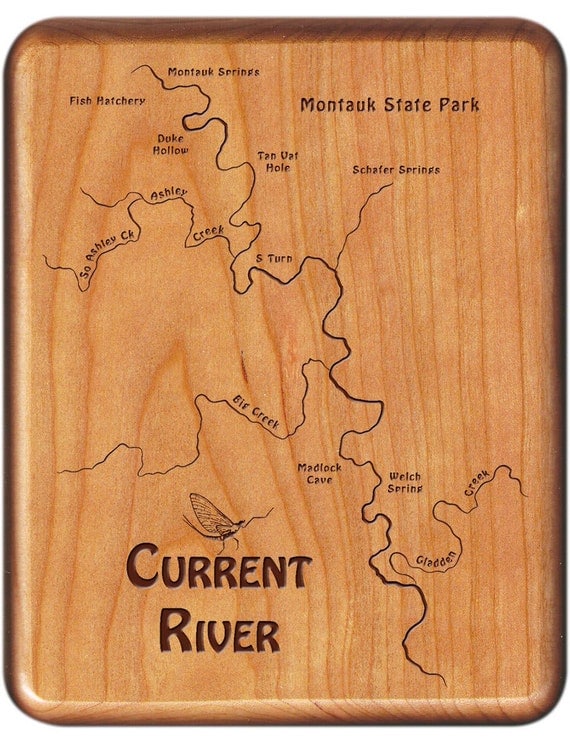 CURRENT RIVER MAP

---
Fly Fishing Vests for Men
Master Sportsman Men's 26 Pocket Fishing Vest
Pop never went fly fishing without his vest. You fly fish mainly while standing in the middle of the water, which is usually running at a good pace.
So your vest is like a woman's purse, it holds everything you may need while standing in the water.
Your lures would be on the flap that is designed to keep them safe, then you would have your pocket knife and your fish stringer and anything else you need.
These fishing vests are designed to hold all that and more.
There is a big pocket in the back that is perfect for larger items.
These do wear out over time, but replacing them is hard because you become attached to your fishing vest.
I loved looking at Pop's. He could tell me all about the big trout he caught with each lure and why only that lure would work on that fish that day. I loved his fish stories, even if some one them were bigger than real life.
Clearwater® Vest
Lightweight Tac-L-Pak
Clearwater Mesh Vest
&
---
Fly Fishing Waders with Boots
Toggs Amphib 3.5mm Neoprene Boot Foot Wader with 200gr Thinsulate Insulation

As a kid, I never had my own waders. I just wore the waders left over after everyone chose theirs. Sometimes they fit and sometimes they didn't.
Usually they didn't have built in boots. So I would wear my tennis shoes inside the waders. That didn't really work out well for me. The waders were too big as it was.
Sometimes I would try my shoes on the inside. That was a bit better. Needless to say, I fell in the water more than I stood. But I still enjoyed myself.
So after my experience with waders, over a 15 or 20 year span, I know I want waders with built in boots. There is more stability in them.
Also, I want them to be insulated. The water is cold and I always felt like I was freezing to death while I was fishing.
Today's insulated materials are so much better than what my grandfather had. He would have loved some of these waders.
Not only are they insulated, they are Fleece-lined with a built in hand warmer in the chest pocket. They also have reinforced neoprene knee pads. I can't tell you how many times I fell on my knees with the rush of the current.
These are bib waders and I like that they are high in the back too so you can wade into high water.
These look like the perfect gift idea for your fly fishing friend.
&
Bootfoot Waders
Silver Sonic Waders
Waterfowler Bootfoot
&
---
Men Fishing Gloves
Water gloves for fly fishing? Pop would have laughed at me if I bought these for him.
But I bet he would have used them. You use your hands a lot when you fly fish. You touch the line all the time, you handle the bounty of fish you catch and you are in the water, so your hands are bound to get wet.
These look like the perfect solution. Your fingers are still open and available for the detailed stuff you need to do, but the rest of your hand will be warm.
If I remember correctly, trout season opens in May in Missouri. It is still cold in the water in May…. brrrr
I like this color of glove because if you take one off for some reason and lose it down stream…and it happens, you will be able to find it. But they have boring colors like black, grey and green too.
Water gloves are a new product that my grandfather would have loved and so will your fly fishing lover.
---
YETI Hopper Sidekick
Yeti Hopper SideKick Accessory Bag, Fog Gray
I know what you are thinking….this looks like a fanny pack.
It's not, I promise. This is your waterproof case for your phone, license, fishing license, keys and all the things you don't want to get wet, but you want to stay with you.
The Yeti has become the new buzz word for coolers. They keep things cool and dry.
This is the perfect gift for a fisherman, hunter, golfer, whatever.
---
The Life Water Straw for Serious Fly Fishermen
LifeStraw Personal Water Filter

You may think a Life Straw is an odd gift for a fly fishing lover, but think about it; they are out there all morning and water bottles are heavy.
So if you have a serious fly fisherman on your gift list, this might actually be a great gift idea.
They will appreciate not having to lug several bottles of water with them each day.
Here is what it says about the Life Straw
-Award-winning Life Straw has been used by millions around the globe since 2005
-Removes minimum 99.9999% of waterborne bacteria (>LOG 6 reduction) and surpasses EPA standards for water filters
-Removes minimum 99.9% of waterborne protozoan parasites (>LOG 3 reduction) and filters to an amazing 0.2 microns
-Filters up to 1000 liters of contaminated water WITHOUT iodine, chlorine, or other chemicals
I would drink from this straw. It might actually be cleaner than my city water.
My grandfather would have had a big chuckle out of this gift, but I know he would have used it.
---
Measure Net to Measure Each Fish Accurately
No more guessing how long your catch is today.
With this awesome fishing net, it has a built in measure.
It is made to Catch, Measure and Release without ever touching the fish.
Just catch the fish, land him in the net, measure it from head to tail and then release the fish. The netting is really soft and very fish friendly.
It's strong enough for the really big ones and does come in different sizes
---
Personalized Fly Fishing Trout Car/Truck Mats
Wouldn't these look great in the floorboard of your fly fisherman? Personalize it with his or her name on it and really make it their own. Choose from 3 different car/truck mat designs.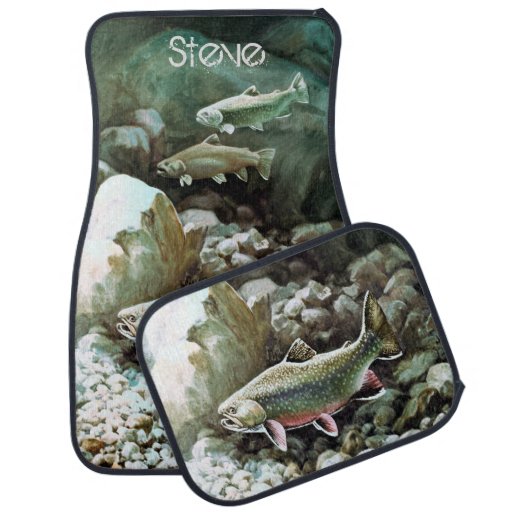 Personalized Brook Trout Car Floor Mat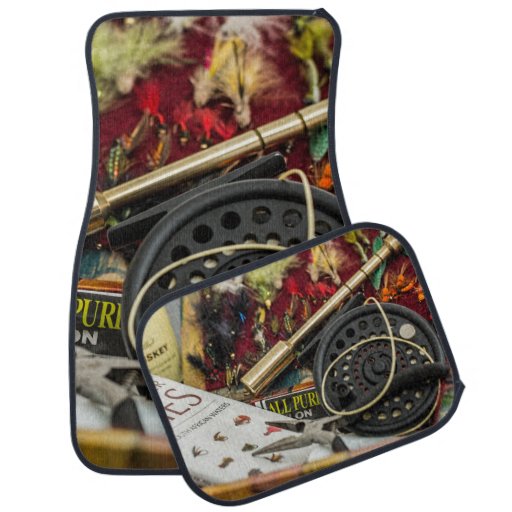 Fly Fishing Rod and Reel With Flies Car Floor Mat

Fly Fishing Rod and Reel Supplies Car Floor Mat

&
---
Best Polarized Sunglasses for Fly Fishing
Maui Jim Hot Sands Sunglasses – Polarized – Men's

Do Polarized sunglasses really make a difference? My grandfather swore by them.
I wouldn't fish without them. It takes all the glare off the water and I can see inside the water and find the fish.
Most fishermen won't splurge on a good pair of polarized sunglasses. Let's face it, we all have way too many things to spend our money on than expensive polarized sunglasses for fishing.
That's what makes these the perfect gift idea for any fishermen. They won't buy them for themselves.
---
Fly Fishing Phone Cases Make Great Fly Fishing Gifts for Men
Apple iPhone 6 6s
Galaxy J7 Case, Samsung J7
iPhone 7 PLUS
---
Fly Fishing T Shirts for Men
We are a T Shirt generation. We wear them every day. To work, for play, even to bed. If Fly Fishing is your passion, then you will love these funny fly fishing T Shirts.
Life is good Men's Fly Fishing Tee

Columbia Men's Periodic Chart

Jiuzhou Men's Tees Fly Fishing Lure

Life Is Ruff – Fly Fishing – Dog Tee

Keke Men's Tee Fly Fishing Lure DeepHeather

Flying Fisherman Rainbow Trout T-shirt

Freshwater Records Fishing T-Shirt

Fripp&Folly – Trout Fishing

Big Johnson Fishing Gear

Men's I Love Fly Fishing T-shirts Colorsize

---
Fly Fishing Pocket Watch
Solid pewter fronted mechanical skeleton pocket watch – Fly Fishing design 27

Here is something your fly fishing lover can use all year long.
Pop carried a pocket watch with him every day. It might be an old fashioned idea, but we still need to know the time.
On the outside is a raised picture of a man fly fishing.
This will bring back great memories and spark dreams of the season to come during a cold winter.
---
Learn To Make Flies for Fishing
Fly Tying For Beginners: How to Tie 50 Failsafe Flies

If your fly fishing enthusiast on your gift list is really interested in learning to tie flies, this is a great beginner book.
Lots of pictures, over 500 of them, and great instructions.
He explains the tools and the materials that you would use in certain ties.
The author, Peter Gathercole, is a leading British fly tier and game fisherman, and has written several books and many magazine articles on fishing and tying flies. He has fished in Europe, North America, and Polynesia.
Learning to tie the flies is only half the fun, next you have to learn how to use them. Each bug or fly that you are making has certain ways they act in the water. The fish are aware of these and will know if it is a trick or not. So it is up to the fisherman to learn each bugs characteristics in order to pull in the best fish.
---
What a Trout Sees: A Fly-Fishing Guide to Life Underwater
I found this book to be really interesting.
All my life I was told to study the fish and see what they liked and how they searched for their food…high in the water or low on the bottom of the stream or river.
This book gives you a Trout's Eye View so you can see how and why he does what he does.
It will take your fishing skills to a whole new level, especially if you are tying your own flies. You will know exactly what to tie and how to use them.
This is a must read for any fly fisherman.
&
---
Fly Fishing Car Decal
It seems today that everyone has a sticker on their car window showing their support of their kids school, their favorite team, and stick families. Why not show your support with a fly fishing car window decal?
&
&
---
Where I Learned To Tye Flies
As a child, I would sit and watch my grandparents make ties all winter long. We would sit close to their wood stove and be warm and snug all day.
But as an adult, I didn't really remember much about how they did it. So I my sister and I decided to take a class. Our instructors name was Mark Van Patten from the Missouri Conservation Department. He was awesome!
Mark has been fly fishing and tying flies since he was 12. He hosted the TV program, "The Tying Bench," for 13 years where he shared his expertise with viewers on KMOS-TV, the PBS affiliate in Warrensburg, Missouri.
He has retired now, but promises to make his shows available soon. In each show he teaches you how to make a fly and shows you how to use it.
I am really sad the show isn't on any more. Here is one of his shows I found on YouTube.com. I hope you enjoy it. He is an awesome teacher.
---
Mark Van Patton – The Tying Bench
---
We are truly a Fly Fishing Family
---
Related Posts
 Best Gifts for Lego Lovers Best Gifts for iPhone Users Best Gifts for Ice Cream Lovers