Whimsical Welded Metal Garden Sculptures have me dreaming of a peaceful beautiful garden.
I love to put pretty, unexpected objects in my garden and Welded Metal Garden Sculptures are perfect for this. Try hiding them in your beautiful garden plants, so that it's a bit of a surprise when a visitor comes across them. Most of the time I think they are too beautiful to hide, so I put them up front in our garden for all to see and enjoy.


These pieces are considered modern art decor for the garden. We are the artists of our garden; there are no rules as to where to put them. Having fun is the only rule that is mandatory.
Remember, you can never have too many metal garden sculptures. In the winter, I don't take them inside, because when I sit inside on a cold dreary day and look out, they remind me that spring will come soon.
---
Dog Metal Garden Sculptures

We all love our dogs and these adorable dog metal garden sculptures will make us laugh when we see them. You can even find some that are your breed of dog. Both Amazon and Etsy have a variety of these welded metal garden sculptures. Even if you don't find that breed, I know you will find something that makes you smile. (Found at your trusted Amazon.com)
Spiky Dachshund Dog Sculpture
Ralphie The Dog Metal Garden Statue
Spiky Scottie Dog Sculpture
&
---
Chicken Yard Decor

I like chickens and roosters as long as they are made of metal. I have had too many roosters attack me with their spurs to like them live. These are adorable and with such a great selection, I know you will find something you like. I love these handpainted ones. I do wonder if they have put anything on them to protect them from the weather. I like to keep mine all year in the garden. If not, I would have to put something on them. They are truly a work of art. Which one will look perfect in your garden? (Found at Etsy.com)
Doc the Rooster
Chickens
Hen With Chicks
---
These
Metal Garden Bird Sculptures
are a bit different because they are metal wired wrapped around and around to create these adorable chickens. These are custom made, which means you get to pick the shape and color. They are life sized sculptures. (
Found at Etsy.com
)
---
Metal Bird Yard Decor

I like the long legged birds for my garden decor. I can stick them in with flowers or foliage and you can still see them. Although, I have seen them put near water and they are lovely. So if you have a water fountain in your yard, try these around that and see how you like them. What is so wonderful about these welded metal garden sculptures is that you can move them around. Plant them somewhere and if you don't like it, pull it up and move it. It's that simple. (Found at Amazon.com)
---
These cute
family of Quails
are handmade and there are now two that look alike. The tallest one is 8.5 inches tall and the babies are 3.5 inches tall. These all come as a set, so you get to arrange them the way you want and move them around. They have been gently forged to their three-dimensional shape and will weather naturally to a rusty metal finish.
(Found at Etsy.com
)
---
Recycled Metal Yard Art Animals

Have you ever thought about having a cute little donkey in your garden? How can you say not to that cute thing? I don't know how they come up with these ideas to make these wonderful creations from junk. They are adorable. I have a few of these in my garden. I have to say, I abuse them, but year after year they stand up my abuse and still look great in my garden. Although, I think my cat may have lost an ear. (Found at Amazon.com)
Reading Frog
Horashio the Horse
Large Swinging Frogs
---
Welded Metal Garden Sculptures – Signs

Signs in the garden, patio or even on the front of the house is very popular right now. I love the vintage look of them. They don't have to make sense to anyone by you. It is your garden…right? So if you want an arrow or to announce it's your garden…go for it. (Found at Etsy.com)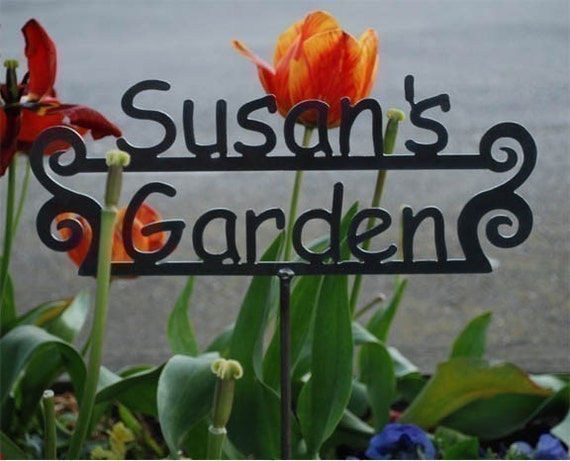 Custom Sign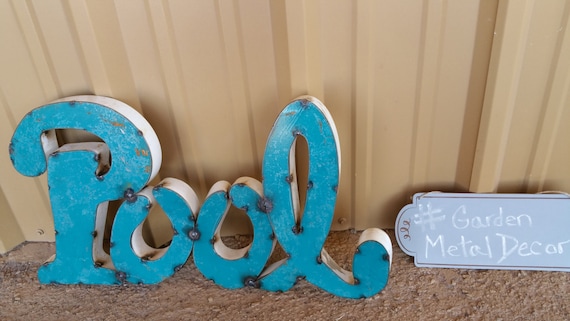 Metal Pool Sign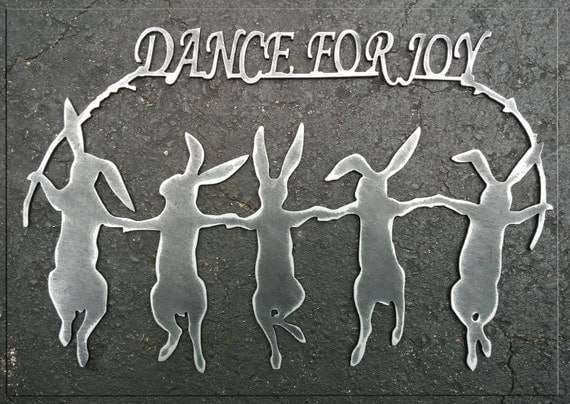 Dance for Joy

---
This
welded metal garden sculpture
reminds me of my youth. I would proudly put this in my back yard. He has the same sign in rustic white as well. I can't decide which I like more. (
Found at Etsy.com
)
---
Welded Metal Garden Sculptures are like any art, it is up to you and what makes you smile. Here are just a few of what you will find at Amazon and Etsy. Have fun and make your garden unique with Welded Metal Garden Sculptures.
---
Related Garden Posts
 Southern Style White Rocking Chairs for the Porch Whimsical Balancing Garden Decor Garden Metal Wind Spinner