Citron SeeSaw Stand for iPad 2, 3, & (4th gen)

The perfect solution for using your iPad with classrooms or one-on-one.
It props the iPad up without worry that it will fall over.
It will be the perfect addition to a child's learning online.
Use it while sitting or standing at a desk or table. Just insert your iPad and the SeeSaw holds it at just the right angle, in portrait or landscape, for your eyes and hands.
The SeeSaw is lightweight, portable, and constructed of a nonporous material that's easy to clean.
It is sturdy enough for viewing, tapping and typing.
This would be a wonderful way to use iPads in the class room. There is little to no danger of the iPads to get damaged.
In the technology society that we live in and with kids using the iPads more and more in school on a daily basis, this is a life saver. Those iPads aren't cheap.
Chucky Back for safety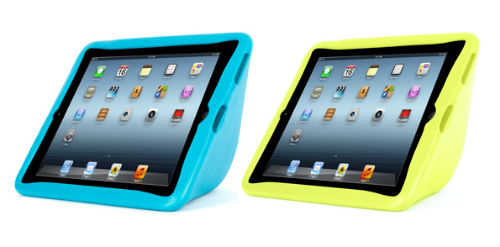 Comes in Citron or Pool Blue

Just drop in the iPad

There are a lot of iPad holders on the market for kids. The trick is to find the right one for your child or your circumstances. I think this one would be perfect for the younger kids. I worry so much about my grandsons playing with mine, so I can just imagine what school teachers go through every day.